5 Great Products

---
---
The Best Pillow For Side-Sleepers I've Ever Found
Use Promo Code "GARY20" For 20% Off Any Purchase
Click here to visit Pillow Cube
Use Promo Code "Gary20" for 20% off any purchase
---
---
Mo Maggie Magnesium Lotion
Give Your Tight Muscles What They Need To Relax... Exactly Where They Need It
Check it out on Amazon:
"Mo' Maggie" MAGNESIUM LOTION - VERY HIGH POTENCY! (Click Here)
Muscles need magnesium to relax and most people are deficient in magnesium...  
If you have chronic areas of muscle tension that you need to work on and stretch all time, you should rub magnesium lotion directly on those areas. It can make a big difference. 
If you know anyone who wakes up in the middle of the night with leg or foot cramps then please, please, please...tell them about magnesium lotion.  It really works.

I've tried many brands and think Mo Maggie's is the best one out there.  The lotion is what you want. You just rub it on before bed and forget about it.  I've tried the "magnesium oils" and the "magnesium gels" and they tend to burn the skin and are rather messing...staining sheets and clothing. 
Check it out on Amazon:
"Mo' Maggie" MAGNESIUM LOTION - VERY HIGH POTENCY! approx. 1500 mg/ounce - 250 mg/tsp. - ORGANICALLY based - 8 fl. oz., HIGHEST concentration of ZECHSTEIN® Magnesium in a lotion on the market! (Click Here)
This is amazing stuff.  And it's pretty cheap.
---
---
The BackKnobber 
Back Pain Massage Tool 
I own this and use it all the time.  Cut an "X" in a tennis ball and stick it on the end knob and you'll be able to release spots in your own back with much less effort.
The Pressure Positive Company's The Original Backnobber II Trigger Point Therapy Self Massage Tool S-shape for Neck, Shoulder, Low Back Myofascial Release Deep Muscle and Fascia Pain Relief Device
---
---
Armaid

I Own This and Use This. It's GREAT!
Relieve Elbow, Wrist, Hand,Finger Pain...Without Tiring Out Your Hands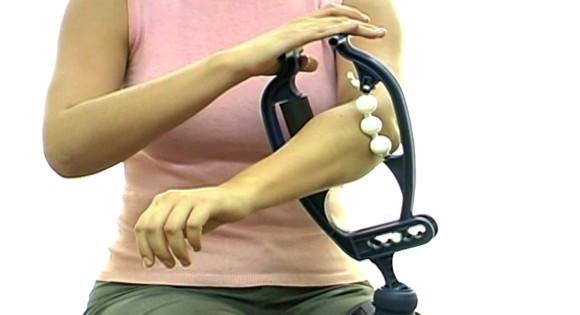 Armaid COMPLETE Foam Massage Tool | Self Myofascial Release Roller | Tennis Elbow Treatment | RSI Therapy | Therapeutic Trigger Point Hand Muscle Foam Roller | Forearm Exerciser | Arm Aid Massager
---
---
Help Others To Find
This Free Pain Relief Website
By Clicking On Your Favorite Icon Below:
Sharing helps others...
You Are Also Cordially Invited To:
Add Gary Crowley to your Google Plus Circles -
Google+ (click here)
---